EPL template now has line numbering!
Dear authors,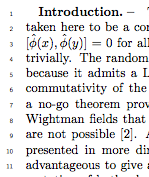 In order to improve our services, we updated the EPL LaTeX template. From now on, line numbers can be displayed in your manuscript. This option not only enables the reviewers and the coeditors to give you more specific instructions, but you will also be able to spot out the points that can be improved more easily. In other words, the line numbers may contribute to a faster handling of your manuscript.
We encourage you to use it the next time you submit a manuscript to EPL.
If you enjoyed this article, please consider sharing it!
SOCIAL MEDIA

LAST EPL COVER


=> See all EPL Covers